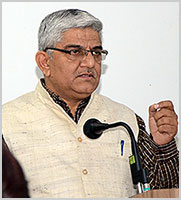 Higher education in India witnessed tremendous transformation in 1986 when the national policy on education suggested creation of Academic Staff Colleges, which was subsequently rechristened as Human Resource Development Centres (HRDC) during the XII 5-year plan. Amongst a large number of such centres, the HRDC in Guru Nanak Dev University (GNDU) is counted among the top centres in the country. The fundamental idea of opening this centre was to ensure excellence in higher education and to impart orientation and training to the teaching community to meet the emerging challenges of related to higher education in the country.

Established in 1987, during the last 30 years, the HRDC of Guru Nanak Dev University has crossed several milestones overcoming multifarious challenges to create a niche for itself for transforming the methodology of teaching as well as system of imparting knowledge to brace the upcoming teaching community to adapt to rapidly changing scenario of education and associated disciplines. In order to achieve this goal, the centre engages several peers of education from different Universities, institutes of India in quest of refreshing and reinventing capabilities of the teaching community.

We the team of HRDC in GNDU, comprising of the academic as well as administrative members is always keen to render all possible assistance to the participants to make their stay during a course comfortable and meaningful. On the website of the Centre, the requisite information related to the courses to be conducted as well as comprehensive information about various activities of the centre is updated.

The Centre enjoys unprecedented freedom as well as support of the University's governing bodies as well as our esteemed Vice-Chancellor. I welcome all the perspective participants who intend to join relevant courses in our UGC-HRDC at GNDU, Amritsar.
Dr. Adarsh Pal Vig, Director

Professor Deptt. of Botanical & Environmental Sciences,

Mobile No.9417062796

adarshpalvig@yahoo.co.in
9646158007
Guru Nanak Dev University, Amritsar.